Alphasat Chroma Plus Software Latest Update. Update Your Alphasat Chroma Plus Satellite Receiver with many new options. nova atualização Alphasat Chroma Plus 2022 For all models of the Latest Alphasat Digital Satellite Receiver software update Click here.  Any Other satellite Receiver New Update Requests and any Other Help Contact Us @ Facebook Page or Twitter.
Alphasat Chroma Plus HD DIGITAL SATELLITE TV RECEIVER SOFTWARE LATEST UPDATE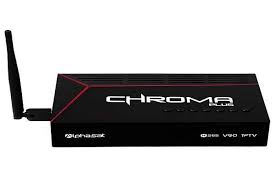 Download Here to the Latest Software Update Of the Alphasat Chroma Plus Satellite Receiver
Alphasat Chroma Plus files :
Filename: Alphasat_Chroma Plus_V13.04.07.S80_07042021
Size: 11.97 MB
Uploader: SatStorm
Alphasat Chroma Plus Specifications and Features 
The Alphasat Chroma Plus FTA receiver allows you to expand channel content and program quality. The device captures channel signals in Full HD 1080p resolution and works with both antenna and the internet. It is simple and practical to install, in addition to having a compact and lightweight design, which makes it easy to accommodate in any environment. The Alphasat Chroma Plus FTA receiver makes it possible to expand the television's range of channels, is compact and stylish, and fits in any space.
– It has an IPTV system, which facilitates access to varied programming, with different channels and styles available;
– It has memory for approximately 8000 radio and TV channels, which provides an infinity of programming for the whole family and friends;
– It presents an image with a Full HD resolution of 1080p, which allows you to watch movies, series, shows, among other programs, with maximum quality;
– It has USB, Ethernet, HDMI, AV, Ethernet, and ISDB-T interfaces, which makes it possible to connect with other compatible devices for the transmission of multimedia audio and video files;
– It supports YouTube, Picasa, Google Maps, and Yahoo Weather, among other applications, which expands the user's possibilities for information and entertainment.