Download Acom-HD X8000 Satellite Receiver Latest Software / Firmware Update. Update your Acom Receiver Firmware with Many New Options. For Other Models of Acom Satellite Receiver Latest Software Updates Click Here
Acom-HD X8000 HD DIGITAL SATELLITE TV RECEIVER SOFTWARE Latest UPDATE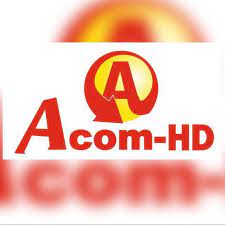 Download Here to the Latest Software Update Of Acom-HD X8000 HD Satellite Receiver
File Name:- Acom-HD X8000_XV17.1_03012022
Size:- 3.83 MB
Specifications of Acom-HD X8000
MULTI-STREAM MEDIA PLAYER, PVR READY, EPG
Satellite Compliant (MPEG-II/MPEG-IV/H.264/H.265) DVB-S/DVB-S2
SCPC and MCPC signals can be received from Ku and C band satellites.
Wideband LNB, Universal, Single, Single S & C Band
1/2, 3/5, 2/3, 3/4, 4/5, 5/6, 7/8, 8/9, and 9/10 are compatible code rates.
Tuner with Loop-Through Sensitivity
DiSEqC C 1.0/1.1/1.2/1.3 DiSEqC C 1.0/1.1/1.2/1.3 DiSEqC C 1.0 (USALS)
Supported by Unicable
Support for blind search is available.
Multi-satellite search, network search, and multi-tp search are all examples of multi-satellite searches.
Search for DiSEqC automatically
PAL/NTSC
PAN&SCAN vector or letter BOX option with a configurable aspect ratio (4:3, 16:9)
480p60Hz, 480i60Hz, 576p50Hz, 576i50Hz, 720p50&60HZ, 1080i 50&60HZ, 1080P 50&60Hz,
OSD: 720X576/1280X720, true full color (32 bits) (configurable)
100 satellites, 4000 transponders, and 70600 channels are used to store memory.
Favorite groups of 32 and up are supported, as well as parental lock.
Add, remove, and edit your favorite groups.
Plusgram lock, delete, move (group move), rename, and swap are all supported.