Download gtmedia v8x firmware latest update. Update New gtmedia v8x software update with Many New Options. For All Models of  Gtmedia Satellite Receiver Latest Software Update Click Here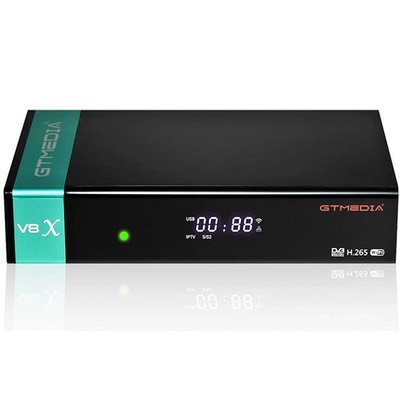 Today we share gtmedia v8x satellite receiver Latest Version firmware with gtmedia v8x specifications
gtmedia v8x Latest firmware download 2022
GTMedia_V8X_Release_V319_20220519.zip DOWNLOD HERE
changelog:
Support tivusat merlin black card
support TNTSAT card
add flash-type information
gtmedia v8x Review And specs :-
Function:
Support DVB-S2X TV Sat Decoder, can be used with satellite dish

Only by supporting DVB-S2X can you watch more high-definition and smooth programs. 

Without DVB-S2X, many programs will only have audio and no images when watching.

With SCART and CA Card smart slot

Built-in 2.4G WiFi and Ethernet

H.265 HEVC 10-bit and Full HD 1080P

Support multi-room function

Support IEEE 802.1.1b/g/n. A Decodificador Satelital can bring stable and fast WiFi signal to your home

Supports watching programs while recording

USB 2.0 for PVR, TIMESHIFT, multimedia file playback (requires FAT FAT32 NTFS mass hard drive).

1080P HD,You can see the world as it is with the nakes eye.

Support you to use smart cards and watch encrypted TV and radio channels

Configuring the V8X as a multi-room server system allows you to share the card with other receivers on the same network.

Support wireless screen projection DLNA technology, can share the screen of mobile phone or tablet with TV

Support mobile devices to play other different programs at the same time as TV programs

Support the setting of the program list, you can watch your favorite programs as you like without restriction
[CA Card Reader and Multi-room] allows you to share your CA card with other receivers on the same network, which means that if you insert one CA card into our satellite receiver, then the receiver in your other rooms can also use the card at the same time, but they need to be on the same network.

[DLNA and Sat to IP] DLNA function supports transmitting the video in your phone and tablet on a large TV screen. Sat to IP function supports satellite TV program transmit to your mobile phone, tablet and other device via GTShare.

[Built-in 2.4G WIFI Module] This satellite receiver is with integrated 2.4G WiFi module, Ethernet and 3G dongle supported. You can connect WiFi or wired network to watch YouTube videos and online movies.

[Channel Search] Support automatic network search for new added transponders. 6000 channels TV and Radio programmable. Supports 7 days electronic program guide and various channel edit functions (favorite, move, lock, skip, delete, rename, find, sort). There is Parental control for channels. It can control the viewing rights for each program.

[USB Port Soft-upgrade] Software upgrades through USB port, or FTP upgrade. The USB port also supports PVR video recording and media files playback function.